CoaXPress 1.1 Device Package
High-speed image transmission at 6.25Gbps via coaxial cable
CoaXPress is defined by JIIA (Japan Industrial Imaging Association) for high-speed image data transmission mainly for Machine Vision applications. CoaXPress IP uses 75Ω coaxial cable as a physical medium and supports transfers up to 6.25Gbps/cable. Utilizing this IP core and reference design allows you to easily develop a device compliant with CoaXPress.
Macnica has got much experience with GenICam through GigE Vision IP and USB3 Vision IP.
CoaXPress IP package also includes a software library to help you support GenICam development.
Features
Compliant with CoaXPress Version 1.1.1
Data rate up to 6.25Gbps/lane
Supports up to 4 Connections
Supports up to 4 Streams
Supports GenICam
Tested under "Inter Operability Test" by JIIA
Specifications
Function
Description
CoaXPress Version
Ver 1.1.1
Maximum data rate
6.25Gbps
Maximum Connection
4
Maximum Connection
4
GenApi Schema Version
1.1
GenICam Standard
Features Naming Convention
(SFNC) Version
2.3
Supported Devices
Intel Cyclone 10 GX
Intel Arria 10 GX
* Please contact Macnica sales representatives about the support for other device fmilies.
Deliverables
Encrypted RTL (Verilog HDL)
Reference design
Firmware for CoaXPress/GenICam including XML generator
Documents
Device Resource Utilization
* Please contact Macnica sales department.
Demo Environment
Image stream from pattern generator implemented in Arria 10 GX is transferred to PC via CoaXPress of 6.25Gbps x4 Connection.
Tested frame grabber board
BitFlow Cyton-CXP (CYT-PC2-CXP4)
AVAL DATA APX-3664
Euresys Coaxlink Quad G3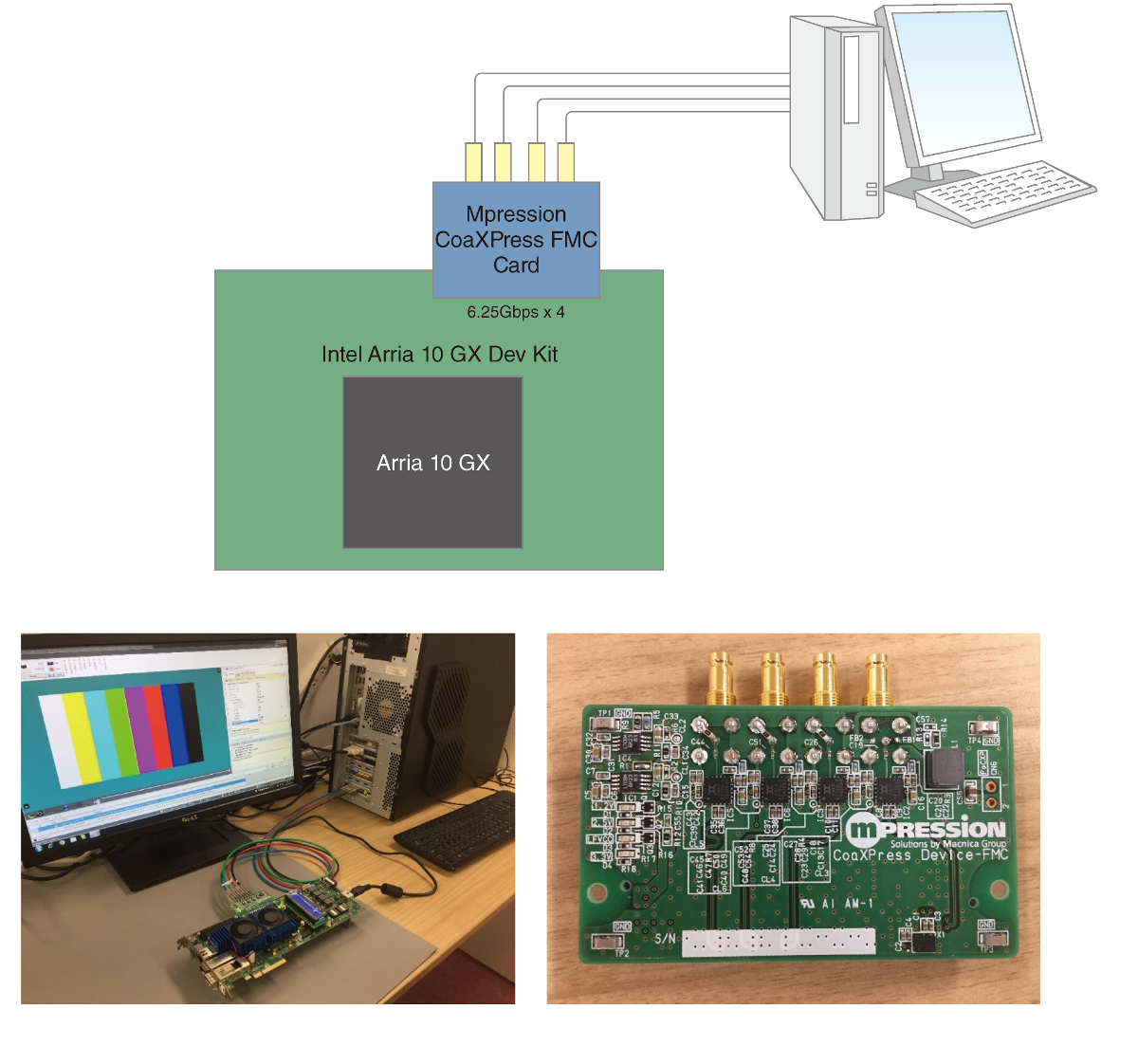 Downloads